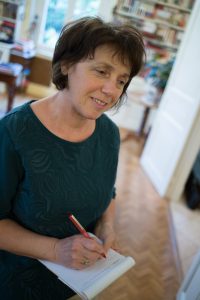 Reine Pousson-Ribis
My name is Reine. I was born in the South of France, not far from Carcassonne. I am a psychologist and a French teacher, and have always been passionate about foreign languages and civilizations. Based on my experience in psychology, and aware of the difficulties in learning a new language, I propose a full immersion experience, in which the student benefits from individual lessons, and shares with my family and me the day-to-day life.
Getting to know the student better, allows me to optimize and enhance the learning experience. In fact, every student has its own particular way to approach foreign languages, and it is in the daily interaction that we can discover the most enriching methods to learn.
 "This diverse training and experience qualifies her as teacher with proven human qualities.  Always ready to listen to her students, Reine puts in place specific strategies for those students who encounter difficulties in their learning of the language"
Education
Master Degree in didactics of Languages and Cultures (University of Montpellier)
Bachelor Degree in French as Foreign Language (University of Montpellier)
University degree in French as Foreign Language (University of Montpellier)
Bachelor Degree in Russian Language (University of Toulouse)
Master Degree in Clinical Psychology (University of Toulouse)
Bachelor degree in Nursing (Limoux Hospital)
Other training: Relaxation, Communication, Teaching in Literacy Education (FLI, FLSCO, FLS, FOS, FOU).
Languages: English, Spanish, Italian, German (A2-European level), Occitan (B1-European level), Russian (B2/C1-European level).
Experience
Over 10 years of teaching experience in French, with international students of all ages. Individual and group lessons as a private teacher, and also in high schools, associations, and Alliance Française abroad.
Language Exams preparation (DELF, DALF, DILF,…), as well as preparation for oral competitive examinations, academic presentations, and job interviews (e.g. nursing and police competitive exam).
Voluntary tutoring of international students with learning difficulties of all ages.
Personal interests
Languages and foreign civilizations, Russian literature, traveling, reading, intercultural exchanges, psychoanalysis, anthropology, humanitarian work, cooking, music and running.